Favorite Birthday Parties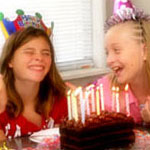 The birthday party themes listed below are favorites of many children and great fun for party guests. As an added bonus, because these parties are popular, it's usually easy to find invitations, decorations and favors that convey the theme.
Some parties have a distinct age range, such as a Doll Party for young children or a Go-Cart Party for older children. Other parties, such as a Movie Party or Tea Party, can be designed for toddlers to teens. Click on the links below for fun invitations, decoration, activity, and food ideas for each party theme.
Ages 1-2
Favorite Character (Pooh, Elmo, etc.)
Animal Lover (farm animals, teddy bear, ducky)
Teddy Bear
Dolls
Trains
Under the Sea
Picnic
Ages 3-5
Favorite Character (Strawberry Shortcake, Dora, etc.)
Animal Lover (pony, cat, dog)
Trains
Jets & Airplanes
Construction
Legos
Fire Fighter
Wild West
Super Heroes
Dinosaurs
Princesses & Knights
Tea Party
Dress-Up
Under the Sea
Zoo
Ages 6-9
Magic
Space
Jungle Safari
Treasure Hunt

Soccer
Bowling
Miniature Golf
Race Cars
Ages 10-12
Luau
Beach Party
Pool Party
60's or 70's
Spa Party
Sports World
Skate Boarding
Video Game
Mystery
Ages 13 and Up
Beach Party
Luau
Pool Party
60's or 70's
Barbecue
Fiesta
Sweet 16
Art Party
Go-Cart Racing
Movies