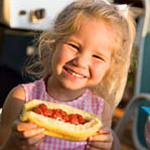 Barbecue Party
Fire up the coals in your back yard or local park and serve some delicious barbecue food that would satisfy any Texan. For extra fun make it a Wild West theme for the little cow pokes.
Party Invitations
Make invitations in the shape of a cactus, cowboy hat or boot. Write the invitation in cowboy speak like Howdy Partner! and Giddyup. Encourage guests to wear jeans and cowboy hats.
Party Decorations
Decorate with gingham checkered table cloths and red & white balloons and streamers. Display cowboy hats and toy horses.
Games & Activities
Set-out jump ropes and blowing bubbles for self-serve fun. Organize a bean bag toss, balloon stomp, relay races and tug of war. Have a wild west trivia quiz and teach western dances (line dancing or square dancing).
Arts & Crafts
Have guests make farm animals out of modeling clay or pipe cleaners.
Party Refreshments
Serve bbq favorites like burgers and hot dogs, corn on the cob, potato salad, baked beans and potato chips. Have guest make their own ice-cream sundaes or s'mores (marshmallows, graham crackers and chocolate) for dessert.
Party Favors
Send guests home with a cowboy favor box, toy cowboys and horses, bubbles, fruit leathers, squirters, whistles, jump ropes, or bandanas.