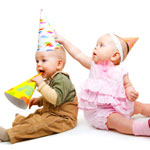 First Birthday Party
A 1st Birthday Party is primarily for family and close friends. If you have family who live nearby, invite them for a family celebration. If your child regularly plays with other children, you may wish to include them and their parents in your family celebration or invite them to a small, separate party – a play date with cupcakes!
1st Birthday themes can focus on the #1 or characters that are popular with young children. A favorite toy, such as a doll, teddy bear, or truck, can also inspire a fun party theme. Visit our sister site First Birthday Fun for dozens of first birthday party theme ideas, including birthday princess, animal jungle, barnyard, construction and more.
The best locations for first birthday parties are places your child is familiar and comfortable with, such as your home, a friend's or relative's home, or a playground your child frequently visits. Keep the party short (1-2 hours) and plan for a time of day when your child is usually at his best. Morning parties work well for many young children.
1st Birthday Party Invitations
Tiny Prints designs super cute 1st birthday invitations that can be personalized with your child's photo and party details.
Or make your own invitations with a photo of your child and the caption "Look who's turning 1!". Another fun idea is to cut a large number 1 from bright colored heavy-weight paper. Write your child's name on the front of the number and the party details (date, time and location) on the back of the number.
If you're handing out invitations, instead of mailing, add a 3D touch by tying or gluing one birthday candle to the invitation.
1st Birthday Party Decorations
Party supplies are available in dozens of fun, colorful themes, including Birthday Princess, Baby Animals, Sesame Street and more that make a great starting point for decorating your party space.
Cut large number ones from brightly colored paper and hang around the party location. Display favorite photos of the birthday child (from newborn pictures to current) along with stuffed animals and other cute toys.
Make a "Happy 1st Birthday!" banner or poster for guests to sign and add their best wishes. Decorate your child's high chair with ribbon, streamers and paper cutouts.
Buy colorful helium balloons as decorations and then send a balloon home with each child.
1st Birthday Games & Activities
You may not be able to get all young children to participate in organized games, but try a ball roll where children sit in circle with their legs apart and roll a large ball to each other. Read or tell your child's favorite story. Decorate a wagon with streamers and balloons and pull children for wagon rides.
Set-up a free play area with blocks, stacking toys, and pull toys. Decorate several large cardboard boxes and allow children to climb in and through boxes.
If it's mostly a family party, show a short home video of your child's 1st year.
1st Birthday Arts & Crafts
Set-up finger painting supplies or if you'd like less mess, buy paint books that have ink printed on the page that children "paint" with water soaked brushes. Make each little guest's hand print in plaster or clay.
1st Birthday Party Refreshments
Serve animal crackers or other small cookies, bite size peanut butter & jelly or cream cheese sandwiches, applesauce, cupcakes (less messy than cake) and ice-cream cones. Provide additional food for the adults, such as cheese and crackers, cut fruit, raw vegetables with dip, pretzels or chips and salsa.
1st Birthday Party Favors
Purchase beach balls, blowing bubbles, or picture books to give as party favors. Avoid small items that could present a choking hazard, as well as favors that are too messy or frustrating for very young children.