Fun Party Food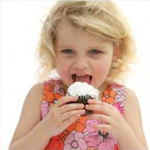 Food is a must-have for children's parties, but a much lower priority for young guests than having fun. Keep the food for children's parties simple and rely on kid-friendly favorites. Even if your child isn't a fussy eater, other kids will be and it's no fun making food that goes uneaten.
What Kind of Food?
Party food can range from cake and ice-cream to a full meal. Full meals can be a lot of work and usually aren't necessary. However, just cake and ice-cream seems a bit skimpy and is an overload of sugar. A good compromise is to have a variety of kid-friendly snacks available during the party and then serve cake towards the end of the party. If the party is during meal time, keep it simple – peanut butter & jelly sandwiches for lunch or pizza for dinner.
Your party theme may also influence the type of food you'll serve. Some parties, such as a Tea Party, Mexican Fiesta, or 4th of July Party call for certain foods to support the theme. The time of day also determines the type of food you'll want to serve, unless you're having a Weird and Wacky party in which case feel free to serve pancakes for dinner or pizza for breakfast! Keep in mind if you have a slumber party or overnight campout you really need to provide dinner, evening snacks and breakfast.
Everything should be ready to serve before the party. It's nearly impossible to cook during a party. Plus, wouldn't you rather be having fun with the kids than be in the kitchen? Sometimes it makes life a lot easier to buy take-out, pre-prepared, or delivered foods for a party. Many restaurants will deliver to just about anywhere, including sports fields, parks, and schools.
How Much Food?
You'll probably need much less food than you think. Unless food is a major focus of the party (Restaurant Party or Chef Party) kids are usually more interested in playing than eating. However, to avoid being caught with too little food, buy extras of food you can use later, such as individually packaged cheese, granola bars, and fruit leathers. What doesn't get eaten at the party can go back into your pantry for snacks and lunches.
If parents are likely to stay, you'll need extra food. You don't need to make special food for the grown-ups. Just choose food that is both kid and grown-up friendly, such as fruit, veggie sticks and dip, cheese cubes, and pretzels. Plan on two drinks per child and have extra on hand. If they're playing hard, they'll consume a lot of beverages. If you're serving drinks in cups, write names on the cups at the beginning of the party to avoid mixed-up drinks and having to provide multiple cups per child.
Buy or Make?
This decision depends not only on the menu, but also how much time and money you have. Try to strike a balance between pre-prepared and home made foods. Conventional wisdom says that making food costs less than buying prepared foods, but some items like pizza and Chinese take-out are often less expensive to buy than make.
However, sometimes a food you want for a party just isn't available pre-made or is too expensive. If you want chocolate covered strawberries for a Princess Party, you may have a difficult time finding them and they may be expensive. In this case it may be easier and more fun to make them.
Once you've planned your menu, identify the foods you can purchase pre-prepared that will be good quality and reasonably priced. Focus your cooking efforts on the remainder of the list. If you don't enjoy cooking or know you don't have time to spend on the kitchen, design the menu to rely on pre-prepared foods.
Going Out
If it's convenient, within your budget, and fits in with the party timing, you can take guests out to eat. This might include stopping for pizza to celebrate the end of Baseball season or stopping for ice-cream on the way home from a Movie Party.
In some cases a restaurant can be the primary party location with most or all of the party activities taking place at the restaurant. In other cases, a party place, such as a bowling alley or play place, may sell food that will work for your party.
Cake & Ice Cream
Cake and ice-cream or other sweet treats are expected for most kids' parties. Bakery departments in large grocery stores provide a wide assortment of decorated cakes on short notice. These cakes may not be the highest quality, but it doesn't matter to most kids. Cakes from independent bakeries can be tastier, but expect to pay more. Leave a party napkin with the baker and they'll usually do a good job of matching the cake colors and decorations. If you're a member of a warehouse store, check out their cake offerings which are often an excellent value.
Home-baked and decorated cakes with their choppy icing and squiggly writing can be more charming than overly perfect bakery cakes. Cakes from store bought mixes taste fine, but you need to have an appropriate pan and some basic ingredients (eggs and oil) to pull off a home-baked cake. An easy decorating idea is to purchase cake toppers and candles that coordinate with your party theme.
If you decide to tint the icing for the cake, stick with pastel shades instead of a deep color. Deep colors can stain little faces and tongues. A deep red Elmo cake may seem like a great idea until guests' mouth's turn bright red. Of course, it could be worse with a blue Cookie Monster cake!
If the idea of baking and decorating a cake makes you anxious, make cupcakes instead. Cupcakes are easier to bake and decorate than cakes, are less messy to serve and don't require plates and forks. Decorate your cupcakes with colorful sprinkles and a piece of candy or an object that ties in with the party theme, such as gummy bears for a Teddy Bear Party or a small plastic dinosaur for a Dinosaur Party for a fun treat. Place finished cupcakes in a cupcake stand for an impressive display. Or set out an assortment of sprinkles and candies at the party and allow the children to decorate their own cupcakes.
Betty Crocker has fun dessert recipes, including ice-cream cone cupcakes, ice cream cake, and lollipop cookies. Another easy "cake" idea is to stack donuts on a platter and put candles on top. Use powdered sugar donuts for a Princess Party or colorful sprinkle covered donuts for a Circus Party.
Ice cream cakes are cool (no pun intended), because they aren't very common and are definitely reserved for special occasions. Plus, ice cream cakes take care of both the cake and the ice cream in one step.
Kid-Friendly Foods
Serve some of these kid-friendly foods at your party:
~ baby carrots with ranch dressing
~ cheese cubes or string cheese
~ cinnamon buns
~ cookies
~ crackers
~ crescent rolls – jam, cheese, chocolate in side for special treat
~ finger sandwiches (make sandwich with peanut butter or cheese spread, trim crusts and cut into 4 squares or triangles)
~ fortune cookies
~ floats – ice-cream or sherbet with soda (buy straws)
~ french fries
~ fruit – grapes, strawberries, kabobs, raisins
~ fruit leathers/roll-ups
~ goldfish crackers
~ green beans
~ hummus (garbanzo bean dip) with pita chips
~ ice-cream – cones, sundaes (syrup, whip cream, cherries, sprinkles, candy pieces), buy prepackaged ice-cream cups or ice-cream bars or sandwiches if you want to avoid the mess of scooping out ice-cream
~ juice – freeze bright juice in ice cube trays and serve with clear soda or juice. If you're concerned about spills, buy light colored drinks (apple juice or lemon lime soda)
~ macaroni & cheese
~ nachos
~ pancakes
~ pasta – spaghetti and other fun shaped pastas (bow ties, bunnies, etc.), some kids don't like tomato sauce, so have butter and cheese as an option
~ pizza – make individual size using pita bread or English muffins. If ordering from a pizza parlor, order largest size you can use (best value) and ask them to cut it "party style" (small diamonds or squares) to avoid slices that are too big to handle
~ popcorn – Jiffy Pop is especially fun or have a topping buffet with taco seasoning, Parmesan cheese, Italian herbs, and cinnamon sugar
~ popsicles
~ potatoes – baked, mashed
~ pretzels – packaged or home baked
~ sandwiches – open face, peanut butter, cream cheese, shaped, rolled
~ sherbet – some kids just love this stuff, especially the rainbow flavor, make a float with clear soda
~ tater tots