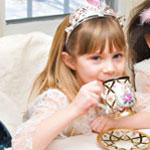 Tea Party
A Tea Party is great "grown-up" fun and a special way to celebrate birthdays and holidays, such as Christmas, Valentines Day, and Easter (Peter Rabbit Tea). A Tea Party can also highlight a special toy or book, such as princesses, dolls, teddy bears, Ms. Spider or Alice in Wonderland.
Party Invitations
Make invitations in the shape of a tea cup, decorated with a paper doily or with a real tea bag and a big tea label invitation attached.
Party Decorations
Decorate with paper doilies, pink and white streamers, silver foil balloons, dolls and stuffed animals and fresh flower bouquets.
Games & Activities
Play dress-up and musical chairs. Toss coins into tea cups. Have free play with dolls and stuffed animals.
Arts & Crafts
Decorate paper or straw hats with flowers and ribbons. Make fragrant sachets. Set out beads and cord for jewelry making. Decorate a photo frame. Make and decorate sugar cookies for tea party.
Party Refreshments
Serve finger sandwiches, cheese cubes, cookies, nuts and decaffeinated fruit flavored teas. Decorate cupcakes with paper cocktail umbrellas.
Party Favors
Fill favor bags with hair accessories, lip balm, blowing bubbles, sidewalk chalk and stickers. Or send guests home with their own china tea cup and saucer from a thrift store.