Party Activities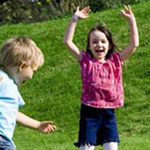 Games, activities, and entertainment enliven a party, provide an opportunity for guests to interact, and become fun party memories. Successful party activities are a snap with a little advance planning and preparation.
Ideas for arrival activities, activity stations, arts & crafts, group activities, free play, entertainment, and closing activities are described below.
Arrival Activities
Easy arrival activities, such as decorating party hats, name tags, or favor bags, are a fun way for children to transition into the party. Simply provide plain party hats, name tags, or bags and a supply of stickers, markers, and ribbons.
Have arriving guests create a big Happy Birthday card for your child. Write "Happy 5th Birthday, Jessica" (inserting your child's name and age) in large, colorful letters on poster board and then have the guests add their names, greetings and artwork.
Another fun activity is a "guess how many" jar. Fill a clear plastic jar with a known quantity (yes, you have to count them!) of pennies, candies, marbles, or some item that ties in with the party theme. Decorate the jar with stickers and place a bow on the lid. Place the jar on the arrival activity table along with slips of paper for guests to write their "guess" and name. Collect the entries in a small basket and at the end of the party award the jar of goodies to the child with the closest guess.
Activity Stations
Set-up simple activity stations ahead of time that are available to guests throughout the party. Activities can be designed for individual children or small groups and can be self-serve or supervised by an adult as needed. Make a coin toss (coins into jars or pie pans), ball toss (balls into buckets or baskets) or ring toss (hula hoops over decorated boxes) using supplies you probably already have. Set-up an activity station with crayons and coloring books, word searches and mazes, and a few small puzzles. A station with large bubble wands and bubble soap is fun for an outdoor party. Visit Arts & Crafts and Games for more ideas!
Arts & Crafts
Arts & crafts projects provide a nice balance for more active party games and completed projects can also serve as party favors. Arts & crafts should be relatively easy, so they aren't frustrating for children and don't require a lot of adult involvement. Avoid crafts that require lots of glue (messy and frustrating) and provide washable paints and markers to avoid staining clothes and skin. Coloring, beading (bracelets or key chains), modeling clay, and pipe cleaner sculpting are popular craft projects that most children are familiar with.
If the party is before a holiday, consider a craft related to the holiday. For example, guests could decorate small pumpkins with markers and stickers at an October birthday party and then take the pumpkins home as party favors to decorate their rooms for Halloween. Visit Arts & Crafts for more ideas!
Group Activities
Group activities are designed for all the party guests to participate in at the same time and include party favorites, such as scavenger hunts, circle games (hot potato, duck-duck-goose), pin-the-tail-on-the-donkey (or a variation that fits the party theme), relay races, and breaking a pinata. Group activities can be as high energy as an obstacle course or as low key as listening to a story. Ideally, group activities should be noncompetitive and if the activity requires teams, have children count off to determine the teams (example: 1,2,3,1,2,3 for three teams)
Be ready to help children be successful at group activities. A child who is a bit physically awkward may need extra guidance and encouragement on an obstacle course. A child who has difficulty reading may need help with the clues in a treasure hunt. If a child doesn't want to participate in a Group Activity, encourage him to help with the activity or play at a self-serve activity station. Visit Games for more ideas!
Free Play
Children, especially younger children, like to check out the party environment and play with the host's toys. Bring out some of your child's toys that are appropriate for free play, such as a wagon, toy cars & trains, dolls, legos, hula hoops, jump ropes, and balls. Be sure to show your choices to your child before the party in case she has some toys she doesn't want to make available to everyone.
Entertainment
Some party themes need entertainment to carry the theme. A magic party, really needs a magician. On the other hand, you don't really need a guy in a dinosaur suit to show up for a dinosaur party. As you think about different themes for your child's party, consider whether or not entertainment would add to the fun.
In addition to clowns and magicians, it's possible to book entertainers who come as popular storybook, TV or movie characters. Puppet shows are fun for younger children as are singers and musicians who lead children in musical activities. Try to see an entertainer in action before committing to have her perform at your child's party. It's more important that an entertainer interact well with children than be the world's best performer. When the entertainer arrives at the party, introduce her to your child. Many entertainers will give the guest of honor special opportunities to participate in the show. If your child is shy and does not want to be the star of the show, be sure to let the entertainer know this ahead of time.
It's rare, but possible an entertainer may cancel at the last minute or not show up. Don't set expectations too high, make sure the entire party doesn't revolve around the entertainer, and have a back-up plan, such as additional games or a children's DVD.
Keep in mind that professional entertainers are not inexpensive. They usually more than earn their fee and are often the highlight of the party, but if you're on a tight budget consider recruiting friends and family as entertainers. Someone you know can probably tell a story, do face painting, apply removable tattoos or even create funny balloon hats.
Another popular form of party entertainment is bounce gyms; large inflatable structures kids jump around in. Bounce gyms come in lots of fun themes and styles with some including slides and water features. Bounce gyms aren't inexpensive to rent, but the fee usually includes set-up and delivery. Adult supervision is recommended to limit the number of children and ensure that smaller children don't get overwhelmed by larger guests.
Closing Activities
Make a game out of distributing favor bags. Have guests follow clues to hunt for their bags or distribute the bags as part of a musical circle game. When the music stops the child holding the favor bag keeps it and gets up from the circle. Continue until all children have a favor bag. Remember to award the "guess how many" jar from the arrival table to the winner!
People seem to have mixed feelings about opening presents during a party. On one hand it can take a lot of time and your child may not react enthusiastically to every present. On the other hand guests often like to see their gifts opened and also like to check out the other presents. If you decide to open presents at the party, turn it into a game by having the gift giver provide 3 clues.
After the closing activities, allow children to revisit the activity stations or enjoy free play until their parents arrive.