Party Decorations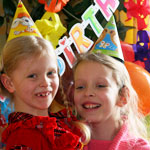 Decorations add instant excitement to a party. Fortunately, a little creativity goes a long way and you don't have to spend a fortune to create a fun and festive environment.
Decorative Partyware
One easy way to decorate is to purchase partyware consisting of matching plates, cups, napkins and tablecloths in a color or theme that suits the party. If you're on a tight budget, look for partyware at your local discount chains. The selection may be a bit limited, but the prices are often less than party stores. A word of caution, sometimes less is more when selecting themed partyware. If the tablecloth, plates, cups, and napkins all have the same design, it can be a bit overwhelming and hard to find items on the table. Buying a few items in coordinating solid colors will be more attractive and cost less.
Balloons
Balloons are low cost, high impact decorations that instantly convey party fun. Helium-filled balloons are readily available at party stores, grocery stores and florists and usually cost less than $1 each. Tie a cluster of balloons outside the party location to help guests find the party. Decorate the gift table and cake table with a balloon bouquet. When making balloon bouquets, use an odd number of balloons and space them at slightly different heights.
Weigh down helium-filled balloons with cans wrapped in gift wrap or foil or just also allow balloons to float up to the ceiling with long ribbons. Send a balloon home with each young party guest.
Call ahead or order helium balloons when you first enter the store and come back and get them after you've finished the rest of your shopping. It takes at least 10 minutes to fill a dozen balloons and this feels like a long time if you're just standing there watching. Helium-filled latex balloons (the regular colorful plastic ones) often fall after 12-24 hours, so pick them up the day of the party. If this isn't possible, ask the party store to put "high float" gel in the balloons. High float costs slightly more per balloon, but they'll float for 2 days. Although the color and glossiness fades a bit after the 1st day. Freshly filled mylar balloons (the foil ones) will float for several days and don't require "high float".
Standard latex balloons are 11 inch diameter and these are fine for a children's party. However, if you're at party store that sells larger balloons (usually 17 inch diameter) and have a van or SUV to transport them, these larger balloons are very festive and don't cost much more. If you're transporting balloons in a regular-size car, one dozen 11 inch balloons is about the most you easily can fit. Anchor them down low in the back seat to keep from blocking your rear view mirror. You can rent or buy helium tanks and fill balloons yourself, but it's time consuming and doesn't save much money unless you have a lot of balloons to fill.
If you don't want to use helium balloons, just blow-up regular balloons and tie these to doorways or hang from the ceiling using curling ribbon and tape.
Streamers & Confetti
Streamers are festive, but it takes a lot to make an impact and they're time consuming to put up. Instead of trying to decorate the entire room in streamers, hang a fringe of streamers over the entrance doorway or make a canopy over the cake table by attaching streamers to the ceiling or light fixture and twirling them down to the corners of the table. Party stores sell confetti in fun shapes and colors. A couple sprinkles on the tables can add a festive look, but be careful around the food table or your guests will be eating it along with their cake. Instead, put some confetti, particularly if it's shaped to tie in with the theme (graduation caps for a Graduation Party), inside the party invitation. A fun little surprise that someone else has to clean up!
Banners
Computer generated paper banners are inexpensive and can be personalized, but can be fragile and sometimes difficult to hang. Generic store bought banners are inexpensive and available for many occasions. Sturdy party banners can be ordered in over 100 themes and personalized with your child's name. Make a colorful welcome sign or a giant birthday card out of poster board for guests to sign and add artwork to for a fun and personal keepsake.
Centerpieces
Table centerpieces aren't a necessity for children's parties. The partyware, cake, and presents provide the festive touches and children aren't likely to be sitting at a table for very long. However, sometimes a centerpiece really fits the theme, such as flowers for a Tea Party. Centerpieces that serve multiple purposes, such as a container that holds party favors or art supplies, are both decorative and functional.