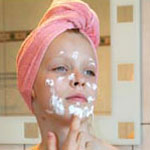 Spa Party
A fun party for girls of all ages. Provide a variety of beauty supplies and let the guests experiment or recruit other adults to provide make-overs (make-up and hairstyling). Take before, in-progress (curlers and face masks) and after pictures of each guest.
Party Invitations
Design invitations in the shape of make-up mirror or giant tube of lipstick.
Party Decorations
Decorate with pink, white and silver balloons and photos from beauty magazines.
Games & Activities
Offer facial masks, make-up, hair styling and manicures. Play 20 questions and Twister.
Arts & Crafts
Set out beads and cord for jewelry making. Decorate photo frames. Make popourri sachets.
Party Refreshments
Serve finger sandwiches, a veggie tray with dip, fruit salad of fruit kabobs, cookies and lemonade.
Party Favors
Send guests home with bubble bath or a make-up mirror. Or fill favor bags with lipgloss, nail polish and hair clips.