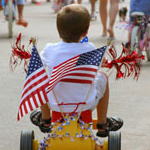 Fourth of July Party
A 4th of July party is a great opportunity to bring together kids and adults for a fun celebration. A spacious yard or local park make the perfect location for a 4th of July Party. If you want to reserve a specific picnic area, do so ahead of time. Prime areas will be in high demand. If you can't reserve an area, send a member of your group to the park early to stakeout a good location. Have a rainy day plan just in case.
Party Invitations
Make 4th of July invitations with drawings or cutouts of flags or stars. Include an image of Uncle Sam with an "I want you!" to attend our party message. Or have your children decorate invitations with colorful markers and glitter to look like fireworks. Remind guests to wear red, white and blue and to bring jackets if they'll be staying late to watch fireworks.
Party Decorations
Decorate with red, white and blue helium balloons and streamers, silver mylar star balloons  and U.S. flags.
Games & Activities
Fill a large candy jar with red & white peppermint candy and have guests guess how many candies are in the jar. The guest with the closest guess wins the candy-filled jar. Play a trivia quiz, wordsearch, crossword or other game based on U.S. History questions, such as the names of the original 13 colonies.
Have a parade. Ask guests to bring wagons, bikes, scooters, drums and tambourines. Provide balloons, construction paper, streamers and small flags for decorating the parade "floats". Parade around block or park while playing patriotic music on boom box.
Play relay races, sack races, or 3 legged races for old-fashioned 4th of July fun. Have a stomp rocket or water balloon challenge. Set up a free play area with bubble wands and soap, hoola hoops, jump ropes, frisbees, and yo-yos.
Have children put on a sparkler show (establish safety rules ahead of time) or go see nearby fireworks display.
Arts & Crafts
Encourage guests to create flags, firework designs, and patriotic greetings in chalk on your sidewalk or driveway. Print patriotic coloring pages and set-out boxes of crayons or markers for young children to color. Make red, white and blue tie-dye or spin art. Decorate bikes and wagons for a parade around the block.
Fun Food
Serve American favorites like hot dogs, hamburgers, macaroni and cheese, baked beans, corn on the cob, potato chips and watermelon. Make refreshing rootbeer floats (don't forget the straws). For dessert serve white cupcakes decorated with red sprinkles and small paper flags or a stars & stripes cake decorated with strawberry "stripes" and blue berry "stars" to look like a flag. Add sparklers for an extra-festive fireworks effect. Make homemade ice cream in an old-fashioned ice-cream maker or an ice cream "ball" that children play with to churn the ice cream.
Party Favors
Give guests small flags, sparklers, party poppers or snap & pops, sidwalk chalk, paddle balls, punching balloons, blowing bubbles, or ball & jack sets.