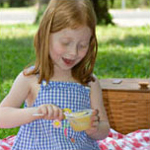 Picnic Party
Head to your favorite park for Picnic. Bring traditional picnic foods and play fun outdoor games.
Party Invitations
Make invitations in the shape of a picnic basket or with drawings of ants.
Party Decorations
Decorate with red gingham tableware, colorful balloons and plastic or stuffed toy animals (squirrels, birds, bugs).
Games & Activities
Have relay races and a balloon stomp. Play dodge ball and frisbee. Blow bubbles and fly kites.
Arts & Crafts
Set out beds and cord for jewelry making. Make paper airplanes.
Party Refreshments
Serve sandwiches, potato salad, baked beans and fruit salad. Decorate cupcakes with sugar sprinkles.
Party Favors
Send guests home with jump ropes, frisbees, punching balloons, paddle balls or sidewalk chalk.