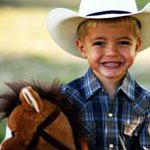 Wild West Party
A Wild West party is a great theme for a little cowboy or cowgirl. Have a wild west party at your home, local park, or nearby stable (pony rides) or farm.
Party Invitations
Make invitations in the shape of cowboy hat or cowboy boot or with a drawing or photo of cowboy or stagecoach.
Party Decorations
Decorate with plastic toy horses and cows, toy trains and cowboy hats.
Games & Activities
Play pin the tail on the pony, balloon stomp, coin toss, relay races and lasso games (capture large stuffed animal). Have a train robbery treasure hunt to find the stolen gold.
Arts & Crafts
Paint an old west town made out of cardboard boxes (jail, bank, blacksmith). Make bandit masks.
Party Refreshments
Serve sloppy joes or beanie weanies, cheese cubes, apple slices, pretzels and root beer floats. Decorate cake or cupcakes with plastic toy cowboys and horses.
Party Favors
Send guest home with straw or plastic cowboy hats, cloth bandanas, toy plastic cowboys and horses and salt water taffy or other old fashioned candy.