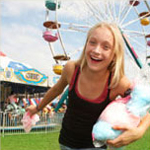 Country Fair Party
Attend a local fair or set-up your own old-fashioned Country Fair in your yard or nearby park. Set-up booths for games, entertainment and food. Give guests tickets for activities and award prizes for games.
Party Invitations
Buy personalized birthday invitations or make invitations in the shape of a piece of cherry pie or a fat pig. If delivering the the invitaitons, instead of mailing, place invitation inside an empty canning jar.
Party Decorations
Decorate with a personalized party banner, red and white balloons and stuffed or plastic farm animals.
Games & Activities
Sing country-themed children's songs (Old MacDonald, Farmer and the Dell, BINGO). Set-up a coin toss onto old glasses and dishes, ring toss onto glass soda bottles or a fishing game. Have a balloon stomp, water balloon toss, relay race, tug of war. Offer face painting.
Arts & Crafts
Set out beads and cord for jewelry making. Decorate paper plates with ribbon and flowers for old-fashioned bonnets or like masks with animal faces. Make fragrant sachets with cloth, ribbon and herbs.
Party Refreshments
Serve fried chicken or chicken nuggets, corn dogs, tater tots, biscuits with butter and jam, corn on the cob, pickles, watermelon and cherry or apple pie. Make root beer floats.
Party Favors
Fill favor bags with plastic farm animals, blowing bubbles, sidewalk chalk, a whistle and marbles. Or send guests home with a ball & jack set, paddle ball, card game or yo-yo.