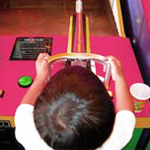 Video Game Party
Visit a local video arcade for a fun and easy party for a variety of ages. Stop for pizza or icecream on the way home. Or if you have a gaming system at home that will accomodate multiple players, have a party at home. Add other Games (board games and card games) or show a movie to round out the entertainment.
Party Invitations
Make invitations with favorite game characters or in the design of a game token.
Party Decorations
Decorate with colorful balloons and streamers.
Games & Activities
Play video games. Have a coin toss, ring toss and rubber darts game.
Arts & Crafts
Draw artwork for video game. Make video game characters out of modeling clay.
Party Refreshments
Serve pizza or nachos, popcorn and ice cream.
Party Favors
Send guests home with activity books, comic books, paddle balls, or yo-yos.