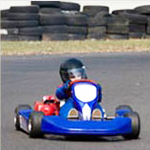 Go Cart Racing Party
If you live near a racing amusement center or a go-cart track, a Go-Cart Racing party can be a lot of fun for older children and a great way to celebrate a birthday, graduation, or passing a drivers license test.
Party Invitations
Make invitations with a photo or picture of go-carts or a checkered racing flag. Include brochure from race track you'll be visiting.
Party Decorations
Decorate with checkered flags, racing posters and decals, and toy race cars.
Games & Activities
Race go carts and play video arcade games.
Arts & Crafts
Assemble and paint model car kits or paint a personalized racing logo/sign.
Party Refreshments
Serve pizza or submarine sandwiches, deli salads (macaroni salad, potato salad), chips and pretzels and root beer floats. Decorate cake like race track (use licorice strips to define track) with toy race cars or make a figure 8 race track cake.
Party Favors
Send guests home with a racecar favor box or race car model. Or fill favor bags with key chains, toy race cars, and racing trading cards.