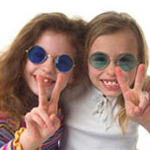 Groovy 60's Party
The 60's were a "groovy" time of long hair, tie dye, hot pants, go-go boots, peace symbols, smiley faces, love beads, flower power, Laugh In, Woodstock, and The Beatles. The 60s are retro and your child may think this is a cool theme for a birthday party. A 60s party could also be a fun way to educate children about a very interesting time in recent history.
Party Invitations
Design invitations incorporating peace symbols, tie dye patterns or flower power designs. Or create a photo collage from the era with photos of the Kennedys, Martin Luther King, the Beatles and more. Encourage guests to wear 60s gear (ripped jeans, tie dye, headbands, and love beads).
Party Decorations
Decorate the party area with peace symbols, tissue paper flowers, lava lamps, and posters or photos from the era.
Games & Activities
Create a 1960s trivia game with fun facts about pop culture, events, politics and historical figures. Play a 60s soundtrack with The Beatles, The Rolling Stones, The 5th Dimension, The Who, and Bob Dylan.
Arts & Crafts
Create "love bead" necklaces, tie dye shirts. Make friendship bracelets or peace symbol charms out of Shrinky Dink plastic or Fimo Clay.
Party Refreshments
Serve veggie burgers, granola bars, jello, and tang or kool aid. Finish with tie dye cup cakes.
Party Favors
Give guests love beads or peace symbol charms.