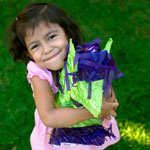 Fiesta Party
A Mexican Fiesta is great way to explore Mexican history and culture. Celebrate at your home, nearby park or local Mexican restaurant. Celebrate Mexico's independence from France on May 5th (Cinco de Mayo) or Mexico's Independence from Spain on September 16 (Mexican Independence Day).
Party Invitations
Design invitation like a Mexican flag or in the shape of a sombrero hat or pinata.
Party Decorations
Decorate with a personalized fiesta banner, map of Mexico, Mexican flag, sombreros, pinatas, plastic or real cactus and red, white and green balloons.
Games & Activities
Play Spanish word games and pin the tail on the burro (wearing a paper sombrero). Have a treasure hunt for "gold" coins or candy. Have a pinata. Play mariachi music.
Arts & Crafts
Set-up a table with play doh or modeling clay. Braid friendship bracelets.
Party Refreshments
Have guests make their own burrito or tostados (provide tortillas, refried beans, rice, cheese, lettuce, tomato, sliced olives, salsa, and sour cream). Serve nacho chips, tropical fruit salad and churros or Mexican pastries. Check out popular Mexican recipes.
Party Favors
Send guests home with a Spanish word book, maracas, a paddle ball, jump rope or playdoh.