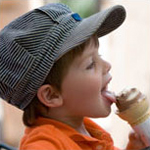 Train Party
Many young children are enthralled with trains. You can take party guests to ride a kiddie train at a local park, ride a real train to a park or other fun destination, or see model trains.
Party Invitations
Make invitations shaped like a train, with a drawing of a train track, photo of real or toy trains, or a photo of your child in a conductor hat.
Party Decorations
Decorate with train sets, signs for train a station, and red, blue & yellow balloons.
Games & Activities
Ride a real train or observe model trains. Set up a free play area with toy trains and tracks.
Arts & Crafts
Paint model trains or paint and decorate large boxes to look like trains. Print out train coloring pages.
Party Refreshments
Serve beanie weanies (hot dog slices in baked beans), string cheese , apple slices, potato chips and root beer floats. Decorate a cake with a model train and tracks or make a train cake.
Party Favors
Send guests home with a conductor's hats, toy trains or an activity book. Or fill favor bags with whistles, card games, and stickers.