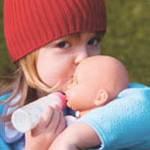 Doll Party
A fun party if your child has a special doll friend or just enjoys playing dolls. The theme can be general dolls or more focused if your child and friends are crazy about a particular doll (example: Barbie).
Party Invitations
Make invitations in the shape of a doll house or paper doll. Include a photo of your child's favorite doll.
Party Decorations
Decorate with a personalized party banner, pastel colored balloons, and lace table cloths. Display dolls, houses, furniture, and other accessories.
Games & Activities
Set-up a free play area with dolls and accessories. Play musical chair with dolls on laps. Play Barbie says, like Simon Says.
Arts & Crafts
Make paper dolls. Set out beads and cord for jewelry making. Decorate a mirror or picture frame with beads and ribbons. Decorate gingerbread girl cookies.
Party Refreshments
Serve tiny sandwiches, cheese cubes, strawberries or seedless grapes, honey roasted nuts and cookies. Make sherbet and lemon lime soda floats (don't forget the straws).
Party Favors
Send guests home with a doll or paper doll book. Or fill favor bags with hair accessories, nail polish, lip gloss, bubble bath and stickers.