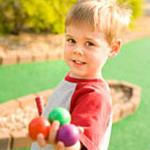 Golf Party
A Golf Party is a fun way for a golf enthusiast or fan to celebrate a birthday or other special occasion. Take younger children to a local miniature golf course. Take teens to a real driving range and putting green. Stop for pizza or ice cream on the way home.
Party Invitations
Make invitations in the shape of golf ball on tee or putting green. Or make an invitation that looks like an 18th hole flag. Specify dress code, if any, for course you'll be visiting (shirts with collars, pants instead jeans, closed shoes, etc.).
Party Decorations
Decorate with green, white & yellow balloons, golf course brochures and photos and golf gear (bags, clubs, balls, tees).
Games & Activities
Play miniature golf or hit balls at a driving range and putting green. Play golf trivia or set-up a golf themed obstacle course (sand traps, water, alligators, etc.). Watch golf's greatest moments or bloopers video.
Arts & Crafts
Make a golf collage (use photos from golf mags and brochures). Decorate balls and tees.
Party Refreshments
Serve pizza, burgers, or submarine sandwiches. Make a putting green cake (put real ball on tee and sprinkle green sugar to define green).
Party Favors
Fill favor bags with golf balls, golf tees, stickers and golf trading cards.