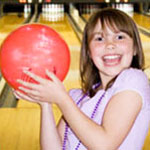 Bowling Party
Visit your local bowling alley for a fun party. Ask for lanes with bumper rails for younger guests. This will avoid the frustration of numerous gutter balls and ensure that all guests achieve a score. Many bowling alleys have party rooms or allow groups to set-up cake and ice-cream at tables behind the lanes. If not, take guests to a nearby pizza or ice-cream parlor after the game.
Party Invitations
Make invitations in the shape of a bowling ball, pin, or lane. Include bowling terms like strike, spare, and split. Remind guests to wear socks and to know their shoe size.
Party Decorations
Bring balloons in black, white & red or your child's favorite colors. Ask the lane for an old pin and have guests sign it with a permanent marker as a keepsake for your child.
Games & Activities
Bowl a couple games and play a bowling trivia quiz.
Arts & Crafts
Provide modeling clay and pipecleaners for some non-messy sculpting.
Party Refreshments
Serve pizza, baby carrots & dip, string cheese, goldfish crackers, seedless grapes and juice. Serve cupcakes for dessert.
Party Favors
Fill favor bags with fruit leathers, whistles, ball and jacks, yo-yos, and press-on tattoos.