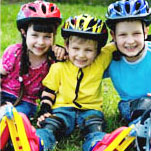 Roller Skating Party
Have a rollerskating party at a local roller rink or even in a nearby park that is well suited for skating. Some cities have parks that are closed for auto traffic on certain days, so skaters have free roam of the streets.
Party Invitations
Make invitations in shape of roller skate or with a photo of a roller skater.
Party Decorations
Decorate with colorful balloons and streamers.
Games & Activities
Set up an obstacle course with cones or other objects to skate around. Have relay races.
Arts & Crafts
Make fun shapes out of pipe cleaner or modeling clay.
Party Refreshments
Serve pizza, baby carrots with ranch dressing, mandarin orange slices and pineapple chunks and icecream cake.
Party Favors
Fill favor bags with rubber balls, stickers, and whistles.