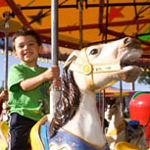 Amusement Park Party
Visit a local amusement park or children's entertainment center. Some cities operate small, reasonably priced amusement areas (carousel, train ride, play areas) in local parks. Larger, privately-operated amusement parks can be expensive, but children's tickets are usually discounted and special promotions are often available through grocery stores and credit unions.
Party Invitations
Make invitations that look like a large admission ticket. Design with a drawing or pictures of a ferris wheel, roller coaster, or carousel horse. Outline with glitter pens to make extra fancy. Include pictures or map from amusement park you'll be visiting (check their web site).
Party Decorations
If you're going to spend the entire time at the amusement park, you may not need any decorations for this party. However, if you're having a picnic-style party at the park or at your house before or after the amusement park visit, you may want to decorate with balloons and streamers, a birthday banner for guests to sign, and drawings or pictures of amusement park rides or characters.
Games & Activities
The games and rides at the Amusement park may be all you need. However, if you anticipate having time for additional games & activities, set-up arcade-style games such as a bean bag toss, coin toss, ring toss, rubber darts, "fishing" games, a duck pond, or a balloon stomp. Also have a "guess how many jar" filled with m&ms, pennies, or marbles.
Arts & Crafts
Display a birthday banner or giant card for guests to decorate. Create book marks with fun stickers. Decorate cupcakes or cookies with icing and candy. Let guests draw with scratch art paper.
Party Refreshments
If you spend the day at an Amusement Park you'll probably have the typical amusement park offerings. If you plan to eat before or after your visit to the Amusement park, you can keep up theme with foods like pizza, corn dogs, nachos, popcorn, soft pretzels, churros, candy apples, and ice slushy drinks.
Party Favors
Send guests home a favor bag that includes a variety of carnival-style prizes, such as a whistle or kazoo, spinning top, silly putty, yo-yo and a lollipop.