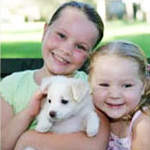 Animal Lover Party
Some children fall in love with animals. It might be puppies, kitties, bunnies, horses, tigers, bugs or even unicorns. Have a Favorite Animal theme party at your house, a nearby park, children's party place, petting zoo, or pony ride facility.
Party Invitations
Make invitations in the shape of the animal's toy or house (example: dog bone or dog house). Include a drawing of the animal or a photo of your child with her pet or favorite stuffed animal.
Party Decorations
Decorate with balloons and streamers in your child's favorite colors. Display drawings or photos of favorite animals and plastic or stuffed toy animals.
Games & Activities
Play animal bingo and pin the "blank" on the "blank" (example: tail on the dog). Have an animal shaped pull-string piñata.
Arts & Crafts
Decorate animal masks or book marks. Make animal shapes out of modeling clay or pipe cleaners.
Party Refreshments
Serve macaroni & cheese, baby carrots with dip, fruit kabobs, pretzels and animal crackers. Decorate a cake or cupcakes with small plastic animals or make cute critters cakes.
Party Favors
Fill favor bags with small plastic or stuffed animals, animal crackers, animal finger puppets, stickers or stencils.