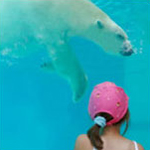 Zoo Party
Visit a local petting zoo or full-size zoo for an animal adventure. Some zoos even provide special tours and party areas for groups.
Party Invitations
Make invitions with drawings or photos of favorite zoo animals, the letters ZOO decorated in animal prints (zebra-striped Z, tiger striped-O and cheetah-spotted O), or a photo from zoo you'll be visiting (from web site or brochure).
Party Decorations
Decorate with a personalized safari banner and posters or photos of zoo animals. Not that most zoos don't allow balloons or confetti.
Games & Activities
Visit a zoo and have a safari (check off all the animals on a game card). Play pin the tail on the zebra and barrel of monkeys game.
Arts & Crafts
Make animal masks, modeling clay animals and a collage with favorite animals drawing or collage (photos from nature magazines). Print out zoo coloring pages.
Party Refreshments
Serve peanut butter & jelly sandwiches, animal crackers and bananas. Decorate cupcakes with animal crackers and sprinkles or make penguin cupcakes, jungle cupcakes or a panda cake.
Party Favors
Send guests home with plastic toy animals, animal finger puppets, animal crackers and fruit leathers.