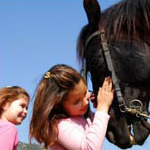 Horseback Riding Party
A horseback riding party is a great way to celebrate a special occasion for a horse enthusiast. You can visit a riding stable for horseback or pony rides or perhaps watch a local equestrian event. Some vendors will even bring a pony and petting zoo animals to your yard. Or use some of the ideas below for a Kentucky Derby Party.
Party Invitations
Design invitation like a stable with door that opens to reveal party details. Include a photo or drawing of a horse. Ask guests to wear jeans and tennis shoes or boots that they don't mind getting dirty.
Party Decorations
Decorate with a personalized horse banner, stuffed or plastic toy horses and horse photos or posters.
Games & Activities
Do horseback riding or go on a nature hike. Play pin the tail on the pony and have an obstacle course (like a horse steeple chase).
Arts & Crafts
Make book marks with horse stickers. Make horses out of modeling clay or pipe cleaners.
Party Refreshments
Serve cheese and crackers, celery filled with peanut butter, baby carrots with dip and apples. Decorate cupcakes with mini plastic horses on top or make a pony cake.
Party Favors
Send guests home with wooden or plastic toy horses, cowboy hats, or a jump rope. Or fill favor bags with horse stickers, blowing bubbles and fruit leathers.