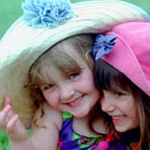 Dress Up Party
A fun party for girls and boys who like to play dress-up. Dig through your closets for old jewelry, scarves, and hats. Look for dress-up clothes and accessories at thrift stores, charity stores, garage sales, and costume stores (great sales after Halloween). Don't forget the boys… gather old ties, sport coats, hats, and glasses or purchase some ready made cowboy, firefighter, doctor, astronaut or knight costumes. Or hire a party person who specializes in dress-up parties. They can provide trunks of great costumes and coordinate activities.
Party Invitations
Make invitation in shape of a fancy dress or hat, movie star glasses, or hand mirror. Or design like a clothes wardrobe with doors that open to reveal invitation.
Party Decorations
Decorate with a personalized party banner and helium balloons and streamers in your child's favorite colors. Display beads, feather boas, make-up and mirrors.
Games & Activities
Have free play dress-up and take photos of each child in his/her dress-up costume. Offer face painting. Play dress-up races (how fast can they put on all the clothes in an old suitcase) or missing object games (display a number of fashion accessories on a table, then remove one and have guests try to identify the missing item).
Arts & Crafts
Make and dress paper dolls, decorate plastic sunglasses (movie star glasses) or paper hats. Set-up beads and cord for jewelry making.
Party Refreshments
Serve tiny sandwiches, cheese cubes, strawberries or seedless grapes, honey roasted nuts and cookies. Make sherbet and lemon lime soda floats (don't forget the straws).
Party Favors
Fill favor bags with barrettes and hair clips, lip gloss, costume jewelry, and bubble bath. Or send guests home with colorful sunglasses or a fun coin purse.