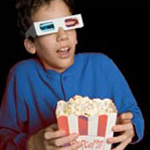 Movie Party
A trip to the local movie theater is fun for all children. Keep an eye out for children's movies playing at local theaters or better yet a drive-in theater. Stop for pizza or icecream after the movie for a fun and easy party. Or invite your children's friends over for an evening of movie watching, games, and refreshments.
Party Invitations
Design invitations like a movie ticket, now showing movie marquee, walk of fame star with your child's name or Hollywood sign.
Party Decorations
Decorate with movie posters, photos of favorite movie stars from entertainment magazines, a Hollywood sign, director's chair and walk of fame stars.
Games & Activities
Watch movies. Play 20 questions or movie trivia, movie charades and pin the sunglasses on the movie star.
Arts & Crafts
Have each guest make a personal Walk of Fame star. Decorate photo frames or make a movie star collage.
Party Refreshments
Serve pizza or nachos, popcorn, candy and ice cream cake.
Party Favors
Send guests home with a movie ticket or movie rental coupon, a mini flashlights, silly putty or black sunglasses.