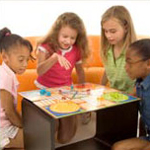 Game Night Party
Game Night is a fun way for your family to spend an evening together or a good excuse for your children to have their friends over. Make it an old fashioned game night with board games and card games or a high-tech game night with favorite electronic games.
Party Invitations
Make invitation look like a playing card or game board. Attach Monopoly money or cut invitation into pieces like a puzzle.
Party Decorations
Display game boards and box lids. Display giant game pieces or figures out of paper (monopoly houses, battleships, sorry pieces). Decorate cardboard boxes to look like dice.
Games & Activities
Play board games, card games, electronic games and puzzles.
Arts & Crafts
Set out beads and cord for jewelry making. Decorate bookmarks with stickers.
Party Refreshments
Serve pizza, popcorn, caramel apples, cola floats (scoop of ice cream in cola, don't forget the straw) and make your own ice cream sundaes. Decorate a cake like a game board, such as a checker board with candy playing pieces.
Party Favors
Send guests home with card games, puzzles, activity books (mazes, word search, crossword), silly putty or paddle balls.