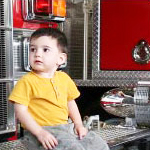 Fire Fighter Party
Many young children are in awe of fire fighters and fire engines. For these children a Fire Fighter Party is a great way to celebrate. Have a Fire Fighter Party at your home, nearby park, or local party place. You may even be able to arrange for a tour or your neighborhood fire house.
Party Invitations
Make invitations in the shape of fire hydrant or fire truck. Include an image of a Dalmatian dog.
Party Decorations
Decorate with red balloons and toy fire trucks.
Games & Activities
Set-up an obstacle course. Have relay races (pass a bucket of water) or a water balloon toss. Play pin the spots on the Dalmatian.
Arts & Crafts
Have guests draw fire houses or work together on a firehouse mural.
Party Refreshments
Serve mild chili or beans and frank, corn on the cob (half ears), cheese cubes, apples and root beer floats. Decorate cake or cupcakes with mini fire trucks or make a fire engine cake.
Party Favors
Send guests home with a fire fighter favor box, fire fighter hats, small fire trucks or key chain flashlights. Or fill favor bags with squirters, stickers and legos.