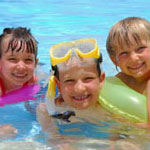 Pool Party
A fun party if you have a pool or are near a community pool or water park. If you're having a pool party at your house, stock up on pool toys and games. If you're going to a public pool, check in advance to see what types of pool toys, decorations and food are allowed. In either case be sure to have dedicated supervision, a life guard or other responsible person, watching children while they swim and play. For young children, you can even have a pool party in your yard with kiddie pools and water toys. Pool parties aren't just for summer. Indoor pools, including hotel pools, are often available for winter parties.
Party Invitations
Make invitations in the shape of swim goggles or with an image of a driving board, inner tube, or kiddie pool. Ask guests to bring swim suit, towel and swim goggles
Party Decorations
Decorate with beach balls, inflatable pool toys (not allowed at many public pools) and colorful balloons.
Games & Activities
Play pool games including Marco Polo, water volleyball, coin diving (shallow end to avoid ear problems), and swimming through rings. On land play pin the sunglasses on the dolphin and blow giant bubbles.
Arts & Crafts
Make sea creatures out of modeling clay or play doh.
Party Refreshments
Serve sandwiches, goldfish crackers, fruit kabobs, cookies, popsicles or rainbow sherbet and lemonade. Decorate cupcakes like a beach ball or make a fish cake.
Pool Party Favors
Send guests home with fun sunglasses, beach balls, sun visors or water squirters.