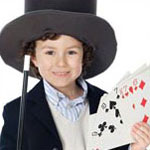 Magic Party
Many children are enthralled by magicians and even aspire to do magic tricks. If this fits your child, a Magic party will be a thrill! This is one of the few parties that really needs a professional entertainer. Ask your local library, community center, or schools for recommendations. They often hire magicians for special events.
Party Invitations
Make invitations in shape of top hat or white rabbit. Write invitation on several playing cards or cut invitation into puzzle pieces.
Party Decorations
Decorate with bright balloons and streamers, silver or gold confetti, and magic props (hats, scarves, deck of cards, decorated boxes)
Games & Activities
Hire a professional magician to perform. Have a house of cards contest (highest wins). Play ring toss and Twister. Teach easy magic tricks.
Arts & Crafts
Make magic wands (attach ribbon and stickers to plastic or wooden rods).
Party Refreshments
Serve cheese cubes, animal crackers, seedless grapes, and popcorn. Decorate cupcakes with sugar sprinkles and make sherbet floats (scoop of sherbet in lemon lime soda).
Party Favors
Send guests home with magic tricks, a deck of cards or a puzzle. Or fill favor bags with rubber balls, magnets, silly putty, and spinning tops.