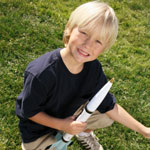 Space Party
A Space Party is a great theme for children of various ages and interests. The theme can be "serious" with a focus on astronomy and space exploration or can be geared towards the science fiction fan with aliens and characters from popular science fiction books and movies (Star Trek, Star Wars). Have a space party at home, nearby park, local planetarium, or video arcade.
Party Invitations
Design invitations in the shape of a rocket ship. Or make invitations with photos of real astronauts or space ships (from NASA web site), drawing of solar system or stars in night sky or funny alien drawing (attach wiggle eyes, purple yarn hair, etc.).
Party Decorations
Decorate with a personalized space banner, space toys (plastic rockets and astronauts), paper or foam planets, stars hung the from ceiling or star charts.
Games & Activities
Have guests figure out how much they would you weigh on different planets. Play space trivia or pin the eye on the alien. Have a space walk obstacle course or treasure hunt.
Arts & Crafts
Make alien masks and create aliens our of pipe cleaners, pompoms, modeling clay and wiggle eyes. Make and decorate space ships out of large boxes. Decorate rocket book marks (pointed top with red ribbon at bottom).
Party Refreshments
Serve pizza or sandwiches, space ice-cream and pop rocks candy. Decorate cake or cupcakes with plastic aliens, astronauts, or space ships or make a rocket cake with candles for rocket flames.
Party Favors
Send guests home with plastic aliens, astronauts or space ships, stickers, glow in the dark stars and modeling clay.