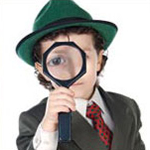 Mystery Party
A Mystery Party is fun for many ages and even appeals to teenagers. The party can have an old-fashioned Sherlock Holmes feel or a more modern James Bond, Spy Kids or Scooby Doo atmosphere.
Party Invitations
Write invitation on heavy weight paper and then cut into puzzle pieces. Or write invitation as mirror image (so guest has to hold it up to mirror to read it) or in secret code (send code in separate envelope a few days earlier than invitation to build the suspense).
Party Decorations
Decorate with black and white balloons and old fashioned candle holders with candles.
Games & Activities
Have a treasure hunt. Play Clue board game. Solve I Spy books or puzzles. Watch a mystery movie.
Arts & Crafts
Draw with lemon juice on white paper (paper must be heated slightly to turn juice brown and reveal design). Decorate book marks.
Party Refreshments
Serve chili, soup, or stew, cheese cubes, baby carrots and dip, apple slices and cookies.
Party Favors
Send guests home with mini magnifying glasses, mystery books and bookmarks, puzzles, flashlights, or notepads and pencils.