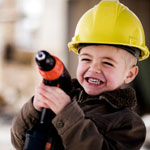 Construction Party
A Construction Party is great for kids who can't get enough of trucks and dirt. Have the party at a nearby park that has a large sand box or create a temporary construction site in your yard or driveway by hauling in a few buckets of dirt, sand, and gravel from a local landscaping store.
Party Invitations
Make invitations in the shape of construction hat, cone, or dump truck. Use the words "Caution – Construction Zone". Include a photo of photo of your child playing with construction toys.
Party Decorations
Decorate with construction zone signs, yellow caution tape, yellow and black balloons, construction toys and tools.
Games & Activities
If the party is outdoors set-up a play area with trucks and sand toys in sand, dirt and gravel. If the party is inside set out legos, blocks tinker toys, erector sets or other construction related toys. Play toss the pebbles into the back of a dump truck. Show a short kids' construction or road building movie.
Arts & Crafts
Have guests make door stops by decorating a brick with paint and stickers. Make modeling clay buildings and paper airplanes.
Party Refreshments
Blow a "lunch whistle" to signal the start of the meal. Serve submarine sandwiches, pizza or macaroni and cheese. Serve chips or cookies in the back of new (clean!) toy dump trucks. Make root beer floats and cupcakes with cookie crumb dirt and mini toy trucks or a dump truck cake.
Party Favors
Buy construction favor boxes or fill favor bags with legos, modeling clay, small toy trucks, rulers, stencils, notepads, pencils and erasers.