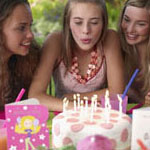 Sweet 16 Party
Whether or not your 16 year old is "sweet" you can still have fun playing up the Sweet 16 theme with an old-fashioned Tea Party. Or go the opposite direction and have a Go-Cart Racing party to appeal to your teen's adventurous side. A Movie Party, Slumber Party or Luau are other fun ways to celebrate this special birthday. If your teen has a favorite activity, such as horseback riding, ice skating, or dancing, consider incorporating the activity as the destination or entertainment for the party.
Party Invitations
Make invitations with the number 16 decorated with glitter. Enclose a sugar packet.
Party Decorations
Decorate with number 16s, stuffed animals and dolls, pink, white, and silver balloons and heart shaped confetti.
Games & Activities
Play 20 questions, Twister and celebrity or pop culture trivia.
Arts & Crafts
Set out beads and cord for jewelry making. Apply temporary tattoos. Paint t-shirts or decorate photo frames.
Party Refreshments
Serve finger sandwiches, pretzels, fruit salad, cookies, ice-cream cake and lemonade or sparkling cider.
Party Favors
Give guests a diary, journal or key chain. Or fill favor bags with hair accessories, lip gloss and nail polish.