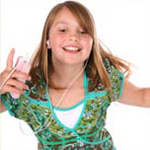 Dance Party
The possibilities for a Dance Party are endless and can be geared to any age from preschoolers to teens. A 50's sock hop, 70's disco party, western line dancing, or dance steps from the latest music videos. Have a dance party at home, a local community center, or a dance studio that will provide lessons. Or takes guests to see a dance performance.
Party Invitations
Make invitations in the shape of a CD, dance shoes (ballet, tap, western boots, saddle shoes) and decorate with dance step foot prings, names of well known dances (waltz, tango, rumba) and funny pictures of dancers (old fashioned or wild). Or write the invitation on an old music or computer CD.
Party Decorations
Decorate with personalized party banners and brightly colored balloons and streamers. Hang CDs or a mirror ball from the ceiling.
Games & Activities
Instruct and perform real dances. Play dance trivia and musical chairs. Match photos of famous dancers or dance scenes to their names/roles (Fred and Ginger, Mikhail Baryshnikov, John Travolta in Saturday Night Fever). Play a dance video or watch a movie that has a dance theme, such as Ballroom Dancing, Dirty Dancing or Lord of the Dance. If your budget permits, hire a dance instructor to lead dancers or a DJ to play music for a large dance party.
Arts & Crafts
Set out beads and cord for beading or jewelry making. Apply temporary tattoos. Make a dance photo collage.
Party Refreshments
Serve pizza, veggies with dip, fruit kabobs, popcorn and root beer floats. Make a boom box cake.
Party Favors
Send guests home with a popular music CD or fill favor bags with a disco mirror ball key chain, temporary tattoos, and blowing bubbles.