Ages & Stages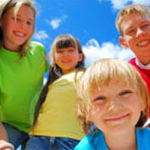 The guidelines below can help you plan successful parties for your child based on his or her age. However, children develop on their own timelines and have widely varying skills and personalities, so plan with your child in mind.
Parties for Ages 1&2
At this age the party is really for you and your family. If you have family who live nearby, invite them for a celebration. If your child regularly plays with other children, you can either include them and their parents in your family celebration or invite them to a small, separate party. One to two year olds aren't going to remember their party and may be overwhelmed by too much activity or excitement. Small, hour-long parties often work well for this age group. However, some cultures believe the First Birthday is a significant milestone and have large parties to celebrate. Do what feels best for your situation.
Party themes that work well for 1-2 year olds include Favorite Character, Animal Lover, Teddy Bear and Dolls.
Parties for Ages 3-5
This is a good age to begin having child-centered parties. Three to five year olds usually enjoy playing with other children and have friends from playgroups or preschool. However, most parents will want to stay to supervise their young children and should be welcome to do so. The party should be relatively short – no more than 2 hours. Home-based parties are a good option, especially if your child doesn't need the added stimulation of a new environment. Free play, simple arts & crafts, and easy games work well for this age group. Be flexible and don't plan too many organized activities.
Party themes that are popular with 3-5 year olds include Trains, Jets & Airplanes, Construction, Fire Fighter, Wild West, Dinosaurs and Dress-Up.
Parties for Ages 6-9
This is a great age for a party. Six to nine year olds are often social, cooperative and want to be involved in the party preparation. Your child can help select the the theme, develop the guest list, prepare invitations, set-up games and toys, and even help with some of the food preparation, such as putting sprinkles on the cupcakes. Home-based parties are often easiest at this age, but parties at a nearby park or party place can also be fun. Two hour parties may feel too rushed for this age group. Three hour parties allow more time for games, arts & crafts, and free play.
Fun party themes for 6-9 year olds include Legos, Super Heroes, Princesses & Knights, Tea Party, Under the Sea, Space and Jungle Safari.
Parties for Ages 10-12
Your child may be starting to develop distinct ideas about what is cool and what is not. Encourage your child to choose the party theme and help plan the activities, games and entertainment. Children this age may be intensely interested in a sport or  hobby that will suggest a party theme or activity. This is also the age when children may prefer an off-site party that revolves around a trip to the movies, beach, or amusement park. The guest list may get smaller at this age if your child has a few best friends she spends most of her time with. Your child may invite only same gender guests and the theme may be oriented accordingly, such as a boys' video gaming party or a girls' tea party.
Children at this age are often gaining new skills and may find challenging activities, such as obstacle courses, relay races, detective games, and word games, more interesting than the simple party games of previous years. Be sensitive to your child's desire to avoid anything babyish. Even if he loved pin-the-trunk-on-the-donkey at last year's party, he might cringe at a similar activity this year. An off-site party where the entertainment is built in, such as or miniature golf, can save you the frustration of trying to figure out what activities will go over well with this age group.
Party themes that are a good fit for 10-12 year olds include Luau, Sports World, Video Game, Bowling, Mystery, Art Party and Pool Party.
Parties for Ages 13 & Up
At this age your child is pretty much in charge of the type of party she has. At some point your child may decide she doesn't even want a party. Don't force it, but instead suggest that she have a couple friends over for dinner and a movie or offer to take her and her best friends to a favorite restaurant. If your child really doesn't want to celebrate a birthday with friends, plan a special family dinner followed by cake, ice-cream and present opening. Celebrate every birthday even if your child acts uninterested.
Party themes that appeal to teenagers include Beach Party, Spa Party, Fabulous 70's, Fiesta, Sweet 16, Go-Cart Racing and Movies.