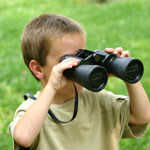 Jungle Safari Party
Have wild fun with a Jungle Safari Party at home or nearby park. Or visit a local zoo for a look at the real thing.
Party Invitations
Make invitations with a drawing or photo of favorite jungle animal (monkey, zebra, tiger giraffe) or a safari vehicle (Jeep).
Party Decorations
Decorate with a personalized safari banner, green, yellow & orange balloons, green streamers and real ivy, vines, palm fronds and other available greenery. Display plastic or stuffed jungle animal toys.
Games & Activities
Play barrel of monkeys game or pin the tail on the zebra. Have a jungle safari (find pictures of jungle animals or toy animals). Show Jungle Book or Tarzan movies. Print out a free jungle activity page.
Arts & Craft
Make animal masks. Design tribal necklaces with cord and wooden beads. Paint a jungle scene mural. Make jungle animals out of modeling clay or pipe cleaners.
Party Refreshments
Serve peanut butter & jelly sandwiches, trail mix (nuts, raisins, m&ms) or critter crunch, and fruit kabobs or fruit salad. Decorate cupcakes with colored sugar and animal crackers or make a jungle animal cupcakes.
Party Favors
Send guest home with toy binoculars or a disposable camera. Or fill favor bags with small plastic or stuffed jungle animals, finger puppets, stickers and fruit leathers.