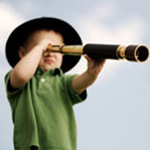 Treasure Hunt Party
A Treasure Hunt is a great party adventure. The "treasure" can tie into legends of pirate treasure or lost civilizations.
Party Invitations
Design invitations like a treasure map with X marks the spot of the party or in the shape of a treasure chest. If delivering the invitations, instead of mailing, enclose plastic coins and a few rhinestone "jewels" or roll invitation and place inside a bottle with a some sand and seashells.
Party Decorations
Decorate with treasure maps, a treasure chest (decorated box) and red, blue, and metallic gold balloons.
Games & Activities
Read a pirate or adventure story to set the stage for a treasure hunt. Play coin toss (gold coins in treasure chest), tug of war, and walk the plank. Have a treasure chest or pirate ship pinata.
Arts & Crafts Ideas
Set out sparkly beads and cords for jewelry making. Decorate cardboard boxes like treasure chests. Make pirate flags out of paper or fabric.
Party Refreshments
Serve pizza, goldfish crackers and fruit kabobs. Decorate cake or cupcakes decorated with edible "treasure" (chocolate gold coins, jewel colored candies) or make a treasure chest cake.
Party Favors
Send guests home with a puzzle or activity book or fill favor bags with costume jewelry, coins (real, plastic or chocolate), stickers and tattoos.