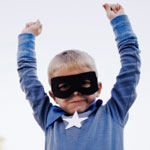 Super Hero Party
If your child is hooked on a super hero, this can be a fun theme for a party. Thanks to TV reruns and movie remakes many children idolize the old-time superheroes, such as Superman, Spiderman, and Batman.
Party Invitations
Design invitations with a drawing or photo of favorite super hero or a superhero logo (example: giant S for Superman or bat silhouette for Batman).
Party Decorations
Decorate with drawing or photos of superhero, superhero toys and streamers and balloons in superhero colors.
Games & Activities
Design a superhero obstacle course, a detective game or treasure hunt. Have a balloon stomp. Play dodge ball.
Arts & Crafts
Make superhero masks or do face painting. Make paper airplanes. Form superheroes and villians out of modeling clay.
Party Refreshments
Serve sandwiches or pizza, a veggie tray, seedless grapes and cola floats. Decorate a cake with a superhero logo or cupcakes with superhero figures.
Party Favors
Send guests home with toy superheros, comic books or flashlights. Or fill favor bags with stickers, whistles, small rubber balls, and silly putty.