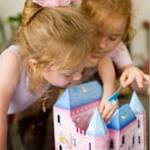 Barbie Party
A fun party for the child who loves Barbie dolls. Ask guests to bring their favorite Barbie doll and bring out all your child's Barbie accessories for a fun free-play activity.
Party Invitations
Make invitations in the shape of a doll house or with photo of your child and her favorite Barbie. Ask guests to bring their favorite Barbie to play with.
Party Decorations
Decorate with pink, white and silver balloons and streamers. Display Barbie dolls, houses, furniture, and other accessories.
Games & Activities
Play Barbie says (like Simon says) and pin the tiara or earring on Barbie. Have a few friends help guests style their hair and their doll's hair. Allow time for free play with dolls and accessories.
Arts & Crafts
Set-up supplies for beading and jewelry making. Have guest decorate a hand mirror or picture frame with beads and ribbons. Print out Barbie coloring pages and set out with crayons or colored pencils.
Party Refreshments
Serve tiny sandwiches, cheese cubes, seedless grapes and honey roasted nuts. Make pink sherbet and lemon lime soda floats (don't forget the straws) and cupcakes with pink icing and white sprinkles.
Party Favors
Send guests home with a paper doll cut out or coloring book, a new doll or doll clothes, hair accessories, nail polish, lip gloss, or bubble bath.