Party Planning Checklist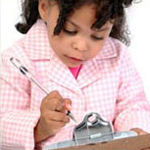 Use this step-by-step Planing Checklist to make planning your child's party fun & easy!
Planning 4-6 weeks before the party enables you to pull the party together at a leisurely pace, allows time to reserve party facilities and entertainment, and ensures you'll get the invitations out well ahead of the party.
However, if you get in a pinch, you can pull together a nice party in as little as 2 weeks. Just make sure you get the invitations out right away or call your guest list.
| | Party Preparation Activity |
| --- | --- |
| √ | 4-6 weeks before party |
| | Choose a theme with your child. Use our Theme Questionnaire to help identify themes that reflect your child's interests. Visit our 100 Themes for a list of ideas. |
| | Select date and time for party. |
| | Choose location for party and make reservations, if necessary. |
| | Develop the guest list (neighborhood friends, class mates, team mates, cousins, etc.). |
| | Develop party agenda (example: 1-1:30 arts & crafts, 1:30-2:15 games and entertainment, 2:15-2:30 refreshments, 2:30-3:00 present opening, favor distribution, and free play). |
| | Book entertainment, if any (magician, bounce gym, etc.). |
| √ | 3-4 weeks before |
| | Make or purchase invitations. |
| | Mail invitations 2 1/2 weeks before party |
| | Plan games and activities |
| √ | 2 weeks before |
| | Purchase party supplies (decorations, favors, games & activities. Purchase enough for siblings and a few other extra guests. See our Shopping List for help. |
| | Plan menu and make grocery shopping list. See our Fun Party Food and Shopping List for ideas. |
| | Arrange for help. Identify family members and friends who can help set-up/clean-up, prepare and serve food, and coordinate games and activities. |
| √ | 1 week before |
| | Gather up tables, chairs, toys, coolers, serving dishes, and other supplies you'll be using at the party. |
| | Follow-up with the invited guests who have not yet RSVP'd to determine final guest count. |
| | Order cake & balloons. |
| | Prepare any foods that can be frozen for the following week. |
| √ | 2-3 days before |
| | Charge camera batteries and make sure cameras are working. |
| | Do grocery shopping. See our Shopping List. |
| | Get cash or make out checks for any paid helpers. |
| | Prepare favor bags. |
| √ | Day before |
| | Prepare remaining food, including cake or cupcakes if making these. |
| | Clean and child proof party area. |
| √ | Party day! |
| | Finish last minute food preparation. |
| | Pick up cake and balloons |
| | Set-up and decorate party area |
| | Set-up games |
| | Have fun! |
| | Do minimum level of clean-up. |
| √ | 1-3 days after |
| | Finish cleanup/put-away. |
| | Have your child prepare thank you notes for gifts. Don't forget to send thank you notes to your helpers. |
| | Send party photos to distant relatives, put one on fridge, save some for scrap book. |