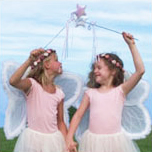 Fairies Party
A Fairies Party is a special way to celebrate a birthday. A Fairies Party can highlight a special toy, book or character, such as Tinkerbell.
Party Invitations
Buy personalized fairy invitations or make invitations with a drawing of a magical fairy or a photo of your child in a fairy costume. Outline your child's name with glitter pens for a magical touch. Enclose some "fairy dust" (glitter or confetti).
Party Decorations
Decorate with a personalized party banner, pink, white and light green streamers and silver foil balloons.
Games & Activities
Play dress-up with fairy wings and hair accessories and offer glittery face painting. Play musical chairs and pin the wings on the fairy. Have a treasure hunt for fairy gold.
Arts & Crafts
Make fairy houses out of twigs, leaves and ribbons. Decorate posterboard fairy wings. Set out beads and cord for jewelry making.
Party Refreshments
Serve tiny sandwiches, cheese cubes, honey roasted nuts, cookies and sparkling apple cider. Decorate white cupcakes with glitter sugar.
Party Favors
Buy garden fairies favor boxes or fill favor bags with hair accessories, blowing bubbles and stickers.