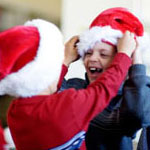 Christmas Party
Plan a Christmas Party for your child's friends, classmates, or neighbors. The children can make Christmas arts & crafts, play fun games and enjoy yummy holiday treats! Visit our sister site Kids Christmas Fun for more party decorations, crafts, treats and more.
Party Invitations
Make invitations in the shape of a Christmas tree, star or gingerbread man shape. Attach a candy cane. Ask guests to bring a new toy for local charity toy drive.
Party Decorations
Decorate with paper snowflakes and holiday lights inside and out.
Games & Activities
Play hot snowball using a large styrofoam ball. Decorate a tree (indoor or outdoor). Sing Christmas carols or walk or drive by Christmas light displays. Play in the snow or go ice skating. See a Christmas play, read Christmas books or show a short Christmas movie.
Arts & Crafts
Make holiday fragrance balls by sticking cloves into whole oranges. Cut out paper snowflakes and line with pastel colored tissue paper for a stained glass effect. Make seed cups, popcorn strands and other "ornaments" for an outdoor wildlife tree or luminaries by cutting designs in paper bags. Make paper chains or ornaments from old greeting cards. Paint pinecones white and then glue glitter to the tips. More Christmas craft ideas.
Party Refreshments
Serve chili, soup or stew and snowman crackers with cream cheese faces, black olives for eyes and pimento for mouths. Make gingerbread cookies, rice krispie treat snowballs, or snowball cupcakes with white icing and shredded coconut. Serve hot chocolate or hot apple cider. Make Rudolph cupcakes.
Party Favors
Send guests home with surprise balls (trinkets wrapped in crepe paper), jingle bells and holiday shoelaces and Christmas stickers.