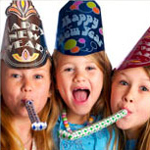 New Year's Party
Have a New Year's Eve sleepover to entertain your children and give some other parents the chance to go out (they'll owe you!).
Party Invitations
Design invitations in the shape of a party horn or hour glass. Incorporate an image of baby New Year. Enclose confetti. Ask guests to bring sleeping bag, tooth brush, etc.
Party Decorations
Decorate with a Happy New Year banner, streamers and balloons.
Games & Activities
Make resolutions. Play puzzles, board games and word games (most words out of letters in Happy New Year). Make and bury a time capsule. Watch movies and a midnight TV celebration.
Arts & Crafts
Make noisemakers (beans, rice, beads in plastic drink bottles) and paper party hats. Design a collage of favorite things (use pictures from magazines). Bake and decorate cookies. More New Year's craft ideas.
Party Refreshments
Serve take-out Chinese food or pizza, popcorn, chocolate fondue and sparkling cider or ginger ale in plastic champagne glasses. Make a New Year's cake with confetti sprinkles and a sparkler. Serve breakfast parfaits (granola, fruit and yogurt layered in glass or bowl) in the morning.
Party Favors
Give guests party horns, poppers, snap & pops and sparklers to celebrate the New Year. Send guests home with a diary, journal or calendar.