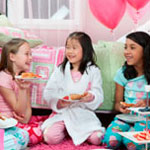 Slumber Party
Slumber Parties become cherished childhood memories. It's such a treat to have friends spend the night. Make a slumber party extra special by having your child select a fun theme, such as outerspace, movie night, or spa makeover. Clear a room for guests to spread out their sleeping bags, or if your child is adventurous and the weather pleasant, have the children sleep in tents in your yard.
Party Invitations
Design invitations like a night sky (moon & stars) and include a photo of your child in cute pjs. Ask guests to bring a sleeping bag, pjs, and tooth brush.
Party Decorations
Decorate with personalized party banners, colorful balloons and streamers, and silver paper or glow-in-the-dark plastic stars hung from ceiling.
Party Games & Activities
Play board games, Pictionary or charades, Twister and 20 questions. Put together puzzles and tell jokes and riddles. Show videos.
Slumber Party Arts & Crafts
Make a favorite things collage (children cut photos from magazines). Decorate book marks or picture frames. Set out beads and cord for jewelry making. Decorate pillowcases or big t-shirts (night shirts) with fabric paint.
Slumber Party Refreshments
Order Chinese takeout or pizza. Make jiffy pop popcorn, chocolate chip cookies and a sleepover cake. Serve sparkling apple cider or gingerale. Make pancakes or a donut cake (stack colorful donuts on a platter) for breakfast.
Slumber Party Favors
Send guests home with activity books, mystery novels, diaries or journals. Or fill favor bags with blowing bubbles, mini flashlights and a travel toothbrush.