Inexpensive Parties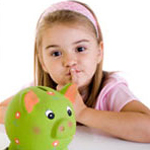 You can give your child a great party without breaking your budget. Fortunately, most children are more concerned about having fun with their friends than receiving expensive party favors or eating fancy food. Spend your dollars where they'll have the most impact with the kids.
Use our Inexpensive Party Tips to have a great party for your child without spending more than you can afford to.
Pick a Simple Party Theme
Some party themes are just naturally more expensive, because they require lots of decorations, fancy food, or entertainment fees. Other party themes are relatively inexpensive. Check out our Party Themes and think about which ones would be least expensive for you to pull off.
Choose A One-Stop Party Place
Choose a place that provides the entertainment, decorations, food, and party favors. This might include a kid gym, a children's museum, a game arcade or a restaurant. Surprisingly, these package deals can be less expensive than pulling together all the pieces yourself.
Party in the Park
If the weather is likely to cooperate, consider having the party at a park with a playground and an open field. Bring some sports equipment, kites, frisbees, or other outdoor games. The location and activities are free. You add basic refreshments, party ware and some balloons for an inexpensive, but fun celebration.
Shop at Discount Stores
Shop for party supplies at discount stores. The selection may be more limited than a party store, but the prices can be much less. Most discount stores carry paper cups, plates, napkins, utensils, balloons, streamers, party favors and candy. Be creative, you may not be able to find plates printed with Elmo at your local discount store, but plain red plates will be fine.
Buy Low Cost Favors
Check our Party Favors page for low cost favor ideas. Discount stores often have great deals on coloring books, crayons, story books, balls, toy cars and more. Keep an eye out for low cost packaged sets that you can divide up for party favors, such as a bucket of legos, a set of toy cars, or a booklet of stickers that you can tear individual pages from.
Buy Party Kits
On-line party suppliers sell all-inclusive party kits for many themes that include party ware, decorations, and favor bags. These can be significantly less expensive than buying supplies separately.
Keep it Small
Limit the guest list to 6 or fewer of your child's closest friends to keep costs reasonable.
Schedule the Party Between Meals
Have the party at a time of day when you aren't expected to provide a meal, such as 10 am-Noon, or 2-4 pm. You can serve drinks, cake and ice-cream instead of a meal. If you really need to provide meals, such as for a Movie Night Party, look for a coupon special from a local pizza parlor (sometimes they have 2 for 1 specials) or serve up some kid-friendly mac & cheese.
Get Help!
Ask friends and family to help with specific tasks. Maybe your cousin can bake a great cake, an artistic friend might be able to do face painting or coordinate some inexpensive craft projects, and older siblings can blow up and hang balloons.