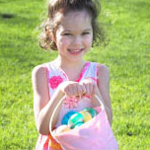 Easter Party
Celebrate Easter with an egg hunt in your yard or nearby park, Easter crafts, and special treats. Younger children will enjoy a Peter Rabbit themed tea party.
Party Invitations
Make invitations in the shape of a paper egg or bunny and decorated with markers and glitter. If delivering the invitations, instead of mailing, fold invitations and place inside a plastic egg with some jelly beans.
Party Decorations
Decorate with pastel colored balloons, stuffed toy bunnies, and plastic eggs or real dyed hard boiled eggs.
Games & Activities
Have guests guess how many jelly beans are in a jar and award the candy to the winner. Play pin the tail on the bunny and run relay races with Easter eggs. Have an egg hunt with plastic eggs filled with small favors.
Arts & Crafts
Decorate Easter eggs and Easter baskets. Make Easter bunnies out of modeling clay or pipe cleaners. Make bunny masks or Easter bonnets out of paper plates.
Party Refreshments
Serve bunny shaped mac & cheese (Annie's brand available in some grocery stores and many health food stores), baby carrots with dip and fruit salad. Decorate cupcakes with shredded coconut and jelly beans or make an Easter Bunny cake or Easter Basket cake.
Party Favors
Fill favor bags with stickers, blowing bubbles, sidewalk chalk and jelly beans or fruit leathers.