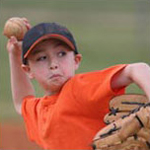 Baseball Party
A Baseball Party is a great way to celebrate the end of Little League season, the World Series, or the birthday of a young baseball fan. Play baseball in a nearby park, go see a game (professional, college, high school), or watch a game on TV at home or at a local sports-themed restaurant. Check out the Major League Baseball and Baseball Hall of Fame sites for inspiration.
Party Invitations
Make invitations in the shape of a team pennant, a baseball, a baseball field or even home plate. Use your favorite team's colors and incorporate images of favorite players. If delivering all the invitations, write the party info on a real baseball.
Party Decorations
Decorate with balloons in team colors and "Go Team!" or "Great Season" signs and banners. Display baseball gear (hats, bats, helmet, shirts).
Games & Activities
Play a game of baseball or t-ball for younger children or baseball drills. Make a baseball trivia quiz. Guess the final score of a game you're watching. Match baseball stats to photos or names of famous players. Design fantasy teams (current pro players or any player from history). Show a baseball highlights or bloopers video. Have guests sign a ball for the birthday child or coach.
Arts & Crafts
Make personal trading cards and team pennants.
Party Refreshments
Serve hot dogs, baked beans, string cheese and chips. Decorate a square cake like a baseball diamond or make baseball cupcakes.
Party Favors
Send guests home with trading cards, a baseball signed by the team or all party guests, baseball stickers, "Great Season" certificates for players, trophies or pins, baseball caps, or a framed action photo of each player (take photos at their games).