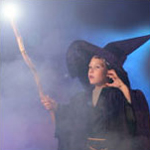 Wizard Party
A Wizard Party is a great birthday party theme for a Harry Potter or Lord of the Rings fan! Have your child help you design invitations, decorations, and activities that tie-in with the Harry Potter stories. Or take your child back to the days of King Arthur's Court and the most famous wizard of all… Merlin! A Wizard Party is also great fun for Halloween…. magical, but not too scary.
Party Invitations
Make invitations in the shape of a wizard's hat or with a drawing of a castle. If delivering the invitations, instead of mailing, roll the invitations and tie with a ribbon like a scroll.
Party Decorations
Decorate with blue and white balloons with silver mylar stars, blue and purple table cloths with silver and gold plates and utensils and star confetti.
Games & Activities
Have a treasure hunt for potion ingredients and a magical obstacle course (overcome spells, dragons, evil wizards). Play pin the horn on the unicorn. If your budget permits hire a wizard to perform magic tricks (be specific that you want a Merlin/Harry Potter type wizard, not a magician in a black top hat or a clown who performs magic tricks).
Arts & Crafts
Draw, decorate, and name dragons or make magical creatures out of modeling clay. Decorate magic wands (start with wooden or plastic sticks and add ribbon, stickers, etc.). Make magical charm necklaces with large beads or medallions and black cord.
Party Refreshments
Serve chicken tenders, macaroni and cheese, pop rocks candy or gummy worms, and punch in a cauldron. Make cupcakes with star shaped sprinkles or wizard cupcakes.
Party Favors
Send guests home with fiber optic wands or fill favor bags with glow-in-the-dark stars, spinning tops, magic stones, blowing bubbles, glow putty and magic tricks.